Queen honours NREA's Vice President for three decades of life saving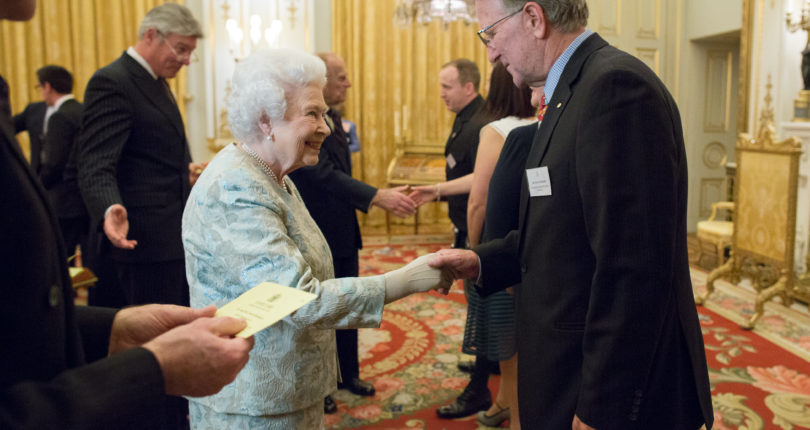 ROYAL SHAKE: Queen Elizabeth II shakes hands with the Queensland academic to honour his more than 30 years commitment to life saving.
Shayne Baker grew up singing God Save the Queen – but recently it was the British monarch's turn to honour the Queensland academic.
Dr Baker OAM was awarded the HRH Prince Michael of Kent Certificate of Merit in Buckingham Palace late last year after more than 30 years of service to the Royal Life Saving Society.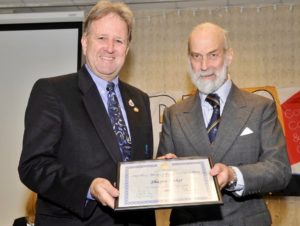 "It was quite surreal and just a huge honour," the University of Southern Queensland doctoral studies advisor said.
"It was very humbling."
The award recognised the countless hours Dr Baker has devoted to the life saving organisation and the more than 100 rescues in which he has been involved since 1998.
For most of that time he lived in Toowoomba and drove a more than four-hour return trip to patrol the popular Tallebudgera Creek beach on the Gold Coast as a beach life saver.
He also devoted his time to the organisation's administrative efforts. During the mid 1990s he became the director of its state branch, beginning an upward trajectory through its hierarchy which ultimately saw him serve as president of the national board from 2003 to 2009.
Along with presiding on state and national boards, Dr Baker has been involved in the only sport that showcases life saving to the world, having officiated at life saving competitions from Australia, around the Commonwealth and the rest of the world.
He recently returned from the Netherlands where he acted as an announcer during the Life Saving World Championships.
So why volunteer so many hours upon hours of his life toward life saving?
For Dr Baker, it is a service which goes to the heart of what it is to be Australian.
"We live in smallest continent in the world but the largest island, most Australians end up in, around or on the water in one form or another – it's just a part of our way of life," he said.
"And so it should be a part of every Australian's education that they know how to cope in an aquatic environment.
"Ideally they should know not only how to save themselves – but also how to save their mates."
But his commitment hasn't been limited to this country. In recent years Dr Baker has helped initiate the Philippine Life Saving Society and the International Drowning Research Centre-Bangladesh to help prevent the thousands of drowning which occur every year in Southern and Southeast Asia.
And the skills he has acquired throughout his years of volunteering have not only seen him decorated by the British royal family. In 2013 they were called into action while travelling on a plane between Brisbane and Malaysia.
A fellow Queenslander with an undiagnosed hiatus hernia reclined his chair – the simple movement blocked his air supply and the man stopped breathing.
"When I got to him he was grey and looked lifeless," Dr Baker said.
"Luckily, after a few rounds of CPR he came back around."
In his years on the front line Dr Baker has also witnessed tragedies and spoken with families left devastated by the loss of loved ones to drownings in our oceans, pools, rivers and dams.
And it is that which drives his twin passions – education and life saving.
"I believe if you can educate people to think about the risks involved in what they intend to do before they do it, then you better equip them to look after themselves in that environment," he said.
"If you can do that, and train people to look after others in the water, then the 280-odd deaths from drowning which happen every year become preventable."